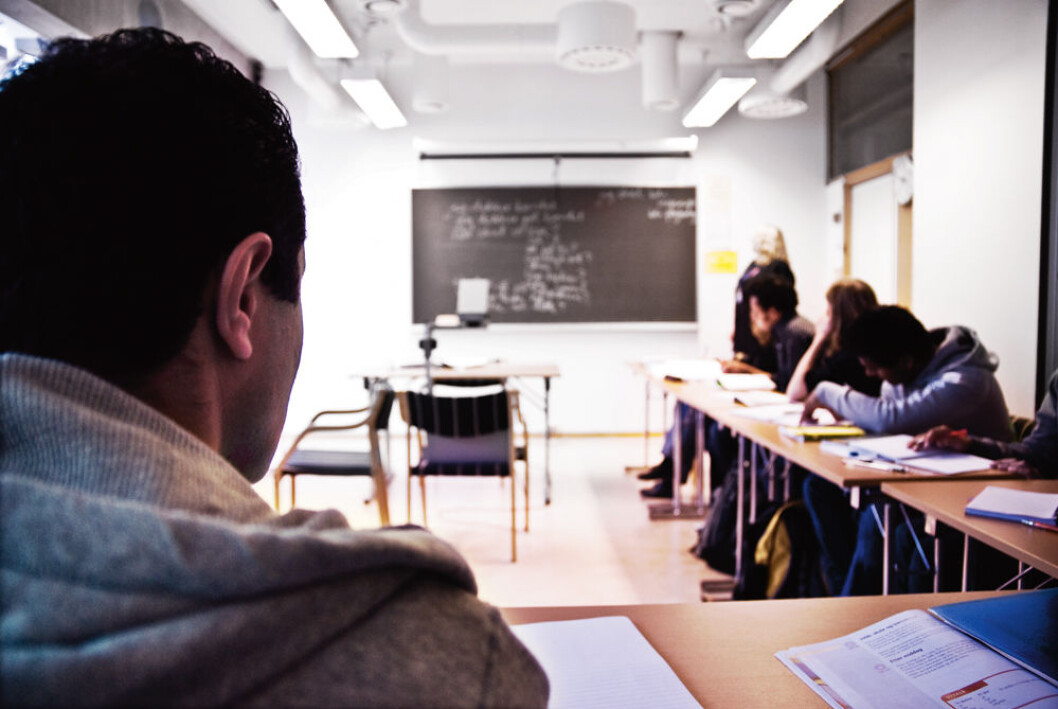 Not all fun and games in Global Trondheim
NTNU consists of more international students than ever. But it's not that easy to move to the little, cold place called Trondheim.
Tekst: Anne Marit H. Grimsbo, Rasmus Sandvoll Weschke
A cheerful group of friends is sitting on a lawn outside of Moholt Studentby on a Sunday afternoon. There are about twenty of them, and they all come from different parts of Spain. None of them knew each other from before they moved to Trondheim, but the Spanish language has brought them together. They're eating paella, an authentic Spanish dish, but the ingredients are from the local Bunnpris. It's worth noticing that they call it lunch, even though it's 6PM.
– I've been here for about three weeks, but I still haven't eaten any traditional Norwegian food, says Libertan Ramirez, while she's enjoying the sun.
That's something she has learned in Norway; when the weather is nice, you've got to be outside, especially now that fall is upon us.
Foto: Eivind Sponga, Under DuskenLubertan Ramirez- I just returned from a weekend trip to a cabin, she says.
Foreigners and Norwegians; enjoying the Norwegian nature together.
– We were eleven Spaniards, one German and one Australian.
Where were the Norwegians? And how do international students get integrated into Trondheim's student environment? A natural place to start getting answers to these questions is with the people who get the students here in the first place.
THE WHITE HOUSE
There is an old, white, wooden house at Gløshaugen. The building houses the Office of International Relations (International House), whose job is to connect NTNU with the rest of the World. Hilde Skeie, leader of the International House, and the rest of the crew make sure that foreign students that come to Trondheim get guidance.
– The international students have a huge advantage here in Trondheim because of this house, Skeie says before she continues:
– Here they get to do everything from printing out grades, to paying semester fees, and get guidance. You don't have to do the typical «office-to-office round» that many students experience in other cities.
This, along with the fact that Trondheim is said to be Norway's best place to study, and that Norwegian institutions don't have tuition fees, are reasons to why the amount of international students in Trondheim is increasing every year, Skeie thinks. She also thinks NTNU can improve on certain things, such as integrating international students with the Norwegian students, and offering language courses to everyone.
– We're obliged to teach them Norwegian culture and language. The goal is to offer language courses to everyone, she says. However, this fall only half of those who applied to the language courses at Dragvoll got a spot, so it's a long way until the goal is fulfilled. Skeie says that they are working on it. They are also focusing on how to better integrate the international students.
– I don't think there's any use in integrating them without a purpose, so we're trying to create natural meeting places for the students, Skeie says.
This year something new was introduced; a welcoming party for about 600 international students at Studentersamfundet, where all the voluntary gangs were presented. This was a co-operation between International House, SiT and Samfundet.
– We have received good feedback about this party, says leader if Samfundet, Marie Stølen.
International House is also trying to integrate the exchange students by connecting them to sports and different faculty-based student organizations. Still, the easiest way is to connect them with one another. This is very obvious at Moholt, where the Spaniards are sitting in their Spanish bubble of sun, common language and paella.
A «WARM» WELCOME IN NORWAY
The Spanish master student Carlos Ballester's first impression of Norway was not a good one. He arrived at Moholt on a late, Sunday night with nothing to eat or drink. He had no bedding and couldn't find anyone to talk to.
– So this is Norway… What a welcome, he thought.
In spite of this, his impression of Norway has changed. He's now back in the country for the second time around, but his knowledge of the Norwegian language is still quite limited.
– I know three words in Norwegian. I learned them in the supermarket. Inngang (entrance), øl (beer) and utgang (exit), says a smiling Ballester.
He'd like to learn more Norwegian, but he didn't get a spot in the Norwegian course. Besides, he doesn't think it's necessary, since Norwegians are very good in English, and his studies are in English.
So why have they chosen to come to this cold country, way up north? Libertan Ramirez has to think about that one for a short moment.
– Because I wanted to improve my English. Among the countries I could choose to go to, Norway had the best reputation for competence in English, she says.
Ramirez feels that she's already become better at talking in English just by being in Trondheim, but Norwegian is yet to come. She's not attending a Norwegian language course. On the other hand, there is Slavka Arneson from Bulgaria, who is attending a language course.
She's been living in Norway for a year. Her last name is as Norwegian as it sounds. She has just married a Norwegian, and they're living together in a couples apartment at Moholt Studentby. This year she is taking an intensive-course in Norwegian at Dragvoll so that she can fulfill her bachelor's degree in psychology. Arneson is talking enthusiastically about Norwegians and their culture. She excitedly compares Norway to her country Bulgaria.
Foto: Eivind Sponga, Under DuskenCarlos Ballester- Norwegians aren't very talkative, she says.
This is confirmed by the Spaniards we're sitting with.
– You are helpful and polite, but shy.
– You are quiet.
– You don't talk much.
– When you get drunk, you either become best friends or you start to fight, someone says thoughtfully.
FORCED TO RENT ON THE PRIVATE MARKET
A lot of resources are necessary to welcome all the international students. NTNU isn't alone with the job of arranging things for them; SiT is a part of the team too.
– Among other things we make sure that everyone is offered a place to live, says Synnøve Hammer Våbenø, housing manager at SiT bolig.
Today there are 1031 international students from 73 different countries spread around the student villages in Trondheim. The 30 percent limit is almost reached, and that will cause some headaches for SiT.
– Our current figures show that the student villages will be full from next fall. We're working on it, and we've already started planning everything. One option is to turn couples apartments into singles apartments, says Våbenø.
SiT has, in collaboration with others, worked out a report focusing on Trondheim's international students and their wellbeing. The project group behind «International Students in Trondheim» is in agreement; from next fall SiT have to be more selective when it comes to guaranteeing people a place to live. Students who need a visa to enter will be prioritized because they need to have a place to live before they can apply for a visa. This means that more European students will have to rent a place to live on the private market, even though they are in need of cheap SiT housing.
– Last year we had a troublesome time finding housing for everyone. Some international students had to rent from private landlords. It was a lot easier for Caucasians than it was for people with other skin colors. It's sad but true, Våbenø sighs.
NTNU DISCLAIM RESPONSIBILITY
The problem is that Trondheim doesn't have enough student housing to handle the increasing flow of international students. This conflict is up and running because NTNU's ambitions are too high when it comes to the amount of international students, and because SiT doesn't have enough resources to house everyone, or ways to integrate them.
– I'm crossing my fingers and hoping for the best, says Hilde Skeie.
At the International House there is no talk of cutting down on the amount of exchange students, even though there is a lack of resources. NTNU's goal is to increase its internationalizing, no matter what.
– This is nothing but a disclaimer of responsibility from NTNU, says Sebastian Eidem, former leader of The Welfare Council (Velferdstinget).
He finds it odd that NTNU doesn't help out with resources for housing and language courses for the international students.
– They should do so if they're going to follow their ambitions of becoming internationally prominent, he says.
Luckily, the International Student Union in Trondheim (ISU) has volunteered to take part in the daunting task.
– We are arranging language courses for international students here in Trondheim, with Norwegian students working voluntarily. This is a great experience for everyone who takes part in it, and a real win-win situation, says ISU Trondheim's Mateusz Nowak.
These language courses are also very popular. Nowak tells us that last year there were more than 200 interested students, but they could only fit between 50 and 60 of them.
– One can say the same thing about our Buddy program; it's always full. It's almost like the social introduction weeks at the different universities, only that it is just for the international students. So far it's been successful, Nowak says.
EXCLUSIVE NORWEGIAN COURSE
It's a quiet morning at Dragvoll. After all, the exam period is yet far away. But in a slightly hidden room, 16 persons are seated, awake and ready. After finding their seats and picking up their books in a highly effective manner, they're waiting excitedly for the teacher to start talking.
– I've been a teacher for eight years, and the influx has increased a lot, says Sissel Jensen Nefzaoui.
She's following this class all through the winter. One has to know English to participate in the course.
– We're dependent on English in the beginning, since this is an intensive-course with fast development, she points out.
After the year is over the students will have achieved the requirements for Higher Education Entrance Qualification in Norway (studiekompetanse), and can study the same subjects as the Norwegian students. The challenge is that they don't talk enough Norwegian outside the classroom.
– The students are very social, but few of them have managed to get Norwegian friends, Nefzaoui says.
She wants social introduction weeks for her students. For now, they're mostly practicing Norwegian pronunciation inside the classroom.
IMPRESSIVE EFFORT
– Et oieblikk. No… øieblikk. No… øyeblikk (moment), one of the students stammered.
He is quickly praised by the teacher. Pronunciation is an important part of learning Norwegian. The teacher doesn't let them off the hook until weird Norwegian letters are pronounced correctly. It is a very international atmosphere in the room. Egypt, Australia, USA, Vietnam, Nepal, Palestine, Kina, South Korea, Russia and Bulgaria are all represented. All of them came to Norway to learn our language, and get to know our culture. We're listening to sentences in Norwegian, with a couple of English words here and there, getting tossed through the classroom between eager students and a very pleased teacher.
–Nå tar vi en pause (Let's take a break), says Nefzaoui nice and slow. The students are still working on their tasks. They are clearly not Norwegian students, who tend to leave lectures ten minutes before they are done.
– We will take a break now, the teacher points out, but only two of the students close their books.
Some more notifications are needed before the class put down their work and head for the cafeteria.
STRANGE NORWEGIAN DIALECTS
During the break they talk about Norway and Norwegians.
– There are so many weird dialects. Especially the Bergen dialect, it's insane, say Australian Jay, and heavily demonstrates the guttural "R".
After a year in Norway, Slavka Arneson has also experienced the Norwegian dialects.
– One time, at the train from Oslo to Trondheim I sat next to a lady who talked to me in a very strange dialect, she tells us.
Arneson liked that the lady changed to a more normalized dialect right after she learned that Arneson was a foreigner. She understood almost everything the lady said, then. The fact that the lady talked to her at all is something Arneson is very pleased with.
PROJECT "CULTURAL CHANGE"
– I've been doing an amusing project this year. It's about slightly changing the Norwegian culture, Arneson says.
When she rides the bus, she always sits on the aisle seat, just so that people will ask her to move over. It's a conversation starter, and the communication has been established. Arneson points out that she doesn't want to insult anyone, she just wants to show that there's nothing wrong with talking with strangers on the bus.
– Sometimes I ask people what time it is, even though I've got my own watch, she laughs.
It's a simple theory. The result on the other hand, has so far been very few conversations about the weather.
DIFFERENT CULTURAL BOUNDARIES
– We Norwegians respect people's privacy. One is not supposed to bug other people on the bus, says lecturer Martin Thomassen at the Department of Social Anthropology.
He doesn't find it odd that the only time Arneson made real contact was on the train between Oslo and Trondheim.
Foto: Eivind Sponga, Under DuskenSlavka Arneson- It's acceptable to make conversation with the one sitting next to you, especially if you're both going to the end station. If the person is "just" going to Oppdal, it's not as natural to converse, he says, and continues:
– We have different expectations of what it means to be a bus passenger, a student and many other things.
Thomassen sees this quite often as a lecturer. He notices that the international and the Norwegian students have different expectations of him.
– Many international students see me as an oracle. They write down everything I say and think that all they need to do is to write it all again in their exam papers, and then they get a job offering. Norwegian students see me as a discussion partner, and think that we're supposed to figure out stuff together.
He thinks this, among other things, is because Norwegian students have grown up in a democracy, where everyone is equal. He tells us that people have different social boundaries:
– In the Norwegian society we have our own certain rules, and our new citizens bring other boundaries from their countries. Of course they question our boundaries, which don't correspond with their sense of reality.