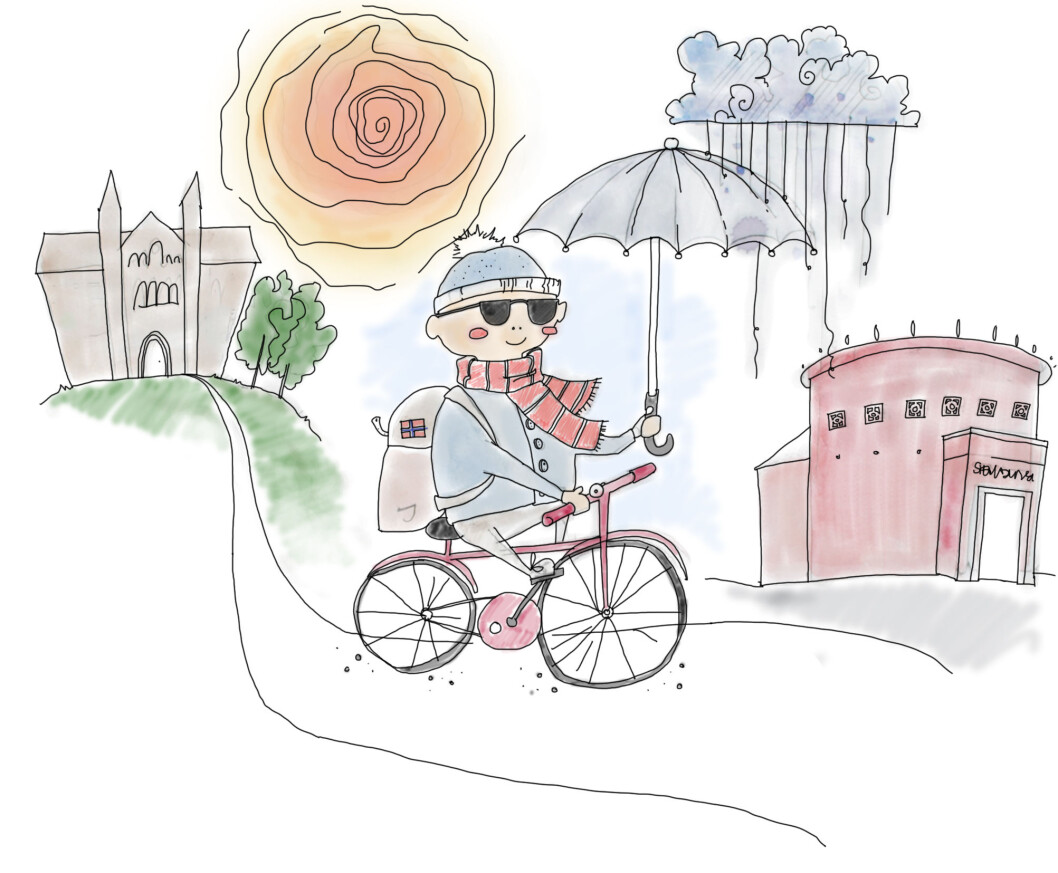 Foreign exchange student – A beginner's guide
Lutefisk, Samfundet and brown cheese – everything is confusing when you are new in town. We will guide you through your time as an international newcomer in Trondheim.
Tekst: Inga Skogvold Rygg
Fakta
Helpful links:
NTNU's list of student organisations: http://www.ntnu.no/student/studentorganisasjonerHiST's list of student organisations: http://hist.no/content/40383/StudentlivDMMH's list of student organisations: http://dmmh.no/nor/for-studenter/ny-student-i-trondheim/studentfritidFree bus to Sweden: http://llilledal.mamutweb.com/subdet2.htmA german foreign exchange student's blog: http://orsmasjodyr.wordpress.com/Be part of one of Samfundet's groups: https://www-rails.samfundet.no/opptak
At last you have arrived in the kingdom of Norway. Whether by accident or because you study petroleum engineering, you are going to spend at least one semester in this cold and strange country. As a foreign exchange student, you are probably eager to learn about a new culture, but at the same time you do not know where to start. Under Dusken's guide will help you make the most of your stay in Norway.
Get started
First things first: Get yourself an umbrella! The Trondheim weather is as unpredictable as your bank account after a night out in the town.You will want to keep your umbrella and sunglasses with you at all times. Also, you need to get around in the city. Buy a bike or a bus card, depending on how sporty you are and how far you need to go. Both are easy ways to travel in the city and with your student ID, you can het a discount when buying your bus pass. Trondheim also has a Student Society which you should be a part of. They arrange a lot of events, and it is a great place to hang out. You can eat, play board games or party, depending on your mood. Studentersamfundet (The Student Society) has stands on campus in the beginning of the semester, where you can buy a membership. This gives you a lot of privileges, including free entrance almost every day.
You can also explore Trondheim like a real tourist – find yourself a tourist map at the Tourist Information Office and go see the Nidaros Cathedral, the Tyholt tower and Lerkendal stadium. Furthermore, you can go explore the city like someone who is actually going to live here. Take a walk along the river, ride your bike through Bakklandet, go hiking in Bymarka or get lost in Midtbyen. Trondheim is a big, yet small city, so it will not take long before you know your way around.
Get involved - student organizations
The best way to get to know Norway is to get to know people. And the best way to get to know people is to get involved. Trondheim is known for its student volunteers, and there are many organizations to choose from. Both NTNU and HiST have lists of student organizations you can involve in (see sidebar).
The main categories are sports, linjeforeninger (a bit like fraternities), political organizations and Studentersamfundet. All of them offer important values for students through the creation of networks and a sense of community. Volunteer organizations are great for developing skills needed in a work environment, as well as great friendships. Maybe you will find a Norwegian friend to teach you more about Norway?
Cold weather and cold people
It is sometimes said about Norwegians that they are as cold as their weather. But don't let their appearance fool you. Once you get to know them, they are quite friendly. The issue lays in the fact the social arenas are different when moving from another country. For instance, do not under any circumstance talk to a stranger on the bus, they will assume you are mentally ill. However, if you want to meet new people, you should know this: Norwegians befriend each other through school, sports and student organizations. Also, through alcohol. An important note when getting to know people is that Norwegians tend to be more shy than other nationalities. Approach them carefully, or you might come across as too intense, even if you are just trying to be nice.
Party like a Norwegian
A night out on town in Norway has a simple structure: vorspiel, going out, nachspiel. The vorspiel is where you warm up for the city. Make sure you are fashionably late. No one ever turns up at 19.00, even if the Facebook event says so. Also, remember to take your shoes off while inside an apartment. Norwegians do not wear their shoes on at home. However, keep them on when you go out on town! You should also be aware that alcohol is very expensive to buy in bars and clubs. Therefore, Norwegians usually get really drunk during it. While out in the city, you dance, you talk, you have fun. Most clubs have a cover charge during weekends, go out on Thursday if you want to avoid them. By the end of the night you should have gotten invited to a few nachspiels. At the nachspiel, you drink a little more while someone plays the guitar and everybody sings. Around 6 in the morning everyone is either sleeping or has passed out, and the party is over.
Living on a student budget
So you have decided to try a traditional waffle with brown cheese. Or just eat some food. You are now about to face one of the biggest challenges as a student living in Norway: this country is expensive, which really sucks when your loans and scholarships do not match up. Luckily, most students in Norway are in the same situation as you, and it is easy to pick up on some tricks. First and foremost, stay away from Bunnpris. Apart from their daily deals, they are the most expensive store in town. Limit yourself to Rema 1000 or Kiwi for the cheapest daily groceries, and check out Fruktkorga, Bamboo Dagligvare or Øst-Vest mat for cheap fruit and vegetables.
Pizza or «klappkake»
As a student in Norway your daily diet will probably consist of pizza, noodles and tacos. If you are feeling curious though, we have quite a few treats for you. Baklandet Skydsstation has a lot of great, tasty Norwegian food. Try «klappkake», which is a type of bread, or herring if you are feeling adventurous. You also have to eat at Egon Restaurant, at the very top of the Tyholt Tower. Although they do not offer a lot of traditional Norwegian food, it is pretty cool to eat while looking out on the entire city of Trondheim.
Congratulations! You are now a ready to integrate yourself as foreign student in Trondheim!