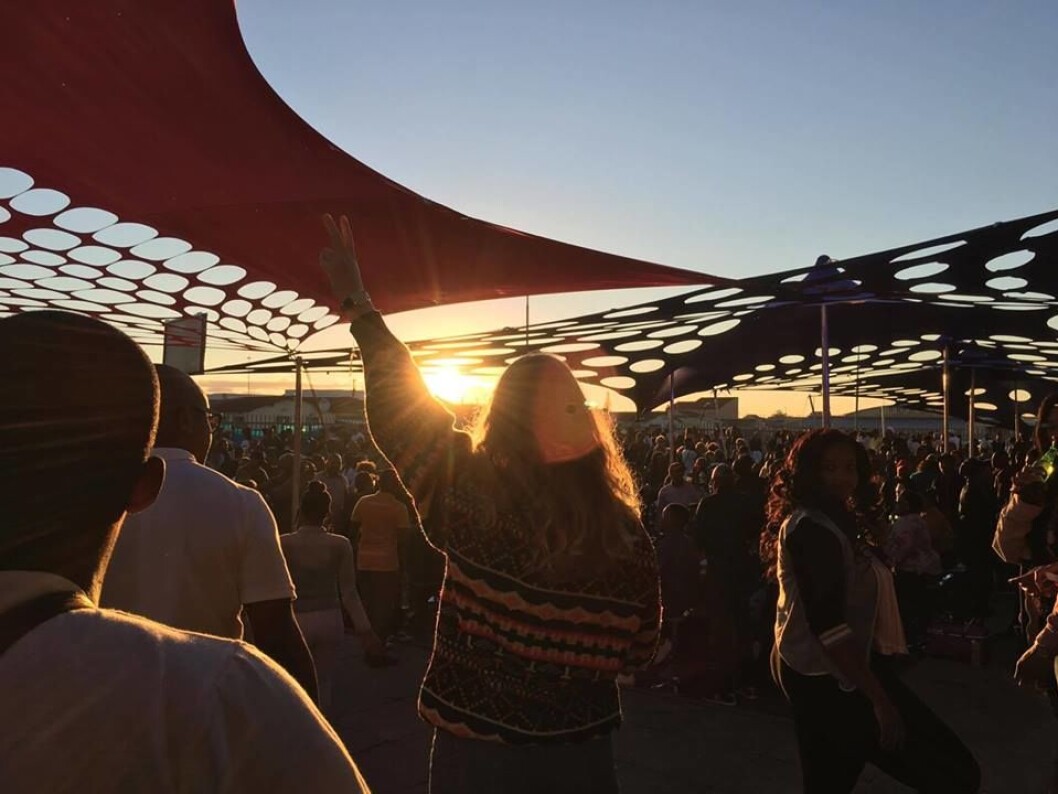 The green globetrotter
Few people would put their M.A. thesis on hold in order to travel to Brazil and make hostels more sustainable. But student and backpacker Eirin Heddeland is certainly the type of person to seize such an opportunity.
In February, Eirin is traveling from Norway to Brazil, almost 10 000 km away, to make hostels more environment-friendly. During her stay, she will be working for Hostelling International (HI), an organization cooperating with FK Norway. HI certifies hostels that fulfil the UN's sustainable development goals.
Eirin Heddeland

Born: 5th June 1993

From: Mandal

Studies Master's Degree in Globalization, Transnationalism and Culture at NTNU

Exchanged to: Goldendale High School (WA, U.S.), SOAS (London), UiO (Oslo)

International jobs: TerraCycle (London), GreenCape (Cape Town). Going to work for FK Norway to promote sustainable travel in Brazil.
– Along with another delegate from Norway, I am going to travel around Brazil to chart hostels and come up with ideas concerning how hostels there can become more sustainable. We will look at how they cooperate with the local business community, and then bring information back to Norway. That way we can learn from each other, Eirin explains.
It is a dream job for Eirin, who cares for the environment, but also loves to travel and interact with people.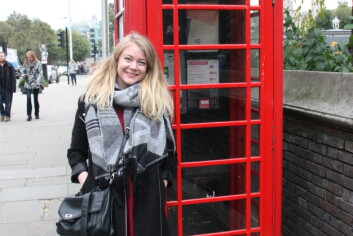 – I think it is important to work closely with the local community. I was recently in Livingstone, Zambia, where someone had started a business, offering cycle tours to local villages, and all they needed were bikes and local guides. We visited a school and the guide told us about everyday life in the villages. I learned a lot during that trip, she says.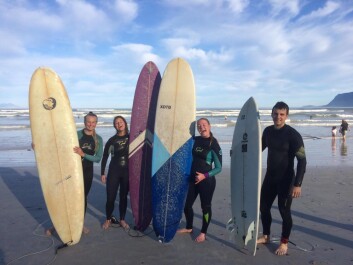 Personal Development
Eirin first caught the travel bug when she chose to exchange to the U.S. in her second year of high school. That choice had a great impact on her personal development and interests.
– Before I went to the U.S., I was anxious and insecure. If I was going to be somewhere at a certain time, I could not arrive five minutes earlier, that was too embarrassing. But then I went abroad, and had to become independent like that, she says and snaps her fingers.
– On exchange you are thrown into everything. You have to be bold and say: 'I have no friends, do you want to be my friend?'.
But you went in spite of being a shy person?
– It is strange that I did, when I come to think of it. I was actively involved in show jumping, and was forced to sell my horse. that was a difficult thing to do. In addition, I had recently changed schools and gained new friends. Despite all this, there was an inner voice which told me I had to do it. My mum asked me repeatedly to reconsider whether this was something I really wanted to do, but I did not change my mind, she says earnestly.
Eirin's exchange year made her choose an international path: She entered the backpacker programme at Grenland Folk University College, and furthermore, European studies at NTNU. Choosing an international course, Eirin felt it was necessary to study abroad again.
– I have always been interested in the Middle East, especially Afghanistan, and decided to go on exchange to School of Oriental and African Studies in London. Her study programme had few free credits, and she had to work hard to succeed in arranging the exchange.
– The student advisors at NTNU told me I should wait, and do the exchange as part of my M.A. instead. I found this idiotic, because I think it is important to get international experience already on B.A. level when you study an international subject, she says.
International bitches
Four Fast Facts

What is your first memory from travelling? Shopping fake Lindberg sweaters and Dior sunglasses when going to Thailand with my family when I was 14.

What is your favourite country? India – it has the richest culture I've ever experienced.

What's the most beautiful language you know? French.

What is your favourite international dish? Ramen.


In the end, Eirin managed to go on the exchange by taking extra credits. The effort turned out to be worthwhile.
– In London, I met people from all over the world. I lived in a flatshare with one person from Korea, one from Russia who had Vietnamese parents, and three Brits. In addition, I got friends from Taiwan, Hong Kong, India, and Japan. We call ourselves 'international bitches', she says and laughs.
Eirin points behind her, to a wall adorned with postcards.
– I still keep in touch with the friends I made in London. We send each other postcards from the countries we visit. It is a bit old fashioned, but really fun.
While finishing her B.A., Eirin decided to gain some work experience before embarking on her M.A.
– I applied for an internship in London, because I had come to love the city. I wanted to work with environmental issues and applied for a job at TerraCycle, a global recycling company with European headquarters in London, Eirin explains.
She then decided to take an M.A. in Globalization at NTNU, and in her second semester she did something original: She exchanged to UiO. At UiO, she studied social entrepreneurship, and Eirin and a group of fellow students developed NomadeMat (nomad food), a canteen service. The idea is to integrate refugees into Norwegian society by employing them to cook international lunches at different workplaces.
– The objective of social entrepreneurship is to have a business idea with two groups of customers: One target group and one customer group. Our customer group is hungry employees who are tired of their dry and dreary packed lunch, and the target group is refugees without a job who are interested in food, she explains.
Eirin and her fellow students are now in the process of starting the business and are excited to see how their idea will turn out in real life.
Turbulence in Cape Town
In Eirin's room, there is a blue banner with the words 'Fire Zuma', written in yellow letters.
– I participated in the 'Fire Zuma' protests last summer, she explains.
The exchange to UiO took Eirin further than Oslo: A part of the programme was a ten weeks' long internship in Cape Town, where the protests took place.
– After the protest, a friend and I went to the camp of the Economic Freedom Fighters (EFF), which is a revolutionary socialist party. It was perhaps a risky thing to do, because they are pretty radical and said to be racist towards white people. We were the only white people there, but we did not experience anything uncomfortable. The atmosphere in the camp was incredible. People came all the way from the township Khayelitsha to take part in the protest.
Living in Cape Town was very different from quiet Trondheim, and Eirin and her fellow students had to take precautions because of the crime rate.
– There were people rummaging in our bins. We had bars in front of doors and windows. It was a different way of living than what I am used to.
Despite having to take precautions, Eirin loved living in Cape Town.
– I think it must be the most beautiful city in the whole world. I have never seen a city with such a perfect location, she exclaims.
Know yourself
Eirin's Study Abroad Tips:

– If you are unsure whether you want to go, tell others that you are going to apply. Then there is an expectation that you are going to do it, and it is more difficult to back down.

– Go by yourself – then you will get closer to the culture and you're more likely to get in touch with new people. Say yes to social events even though you do not know anyone. That way you will get to know someone!

– Be creative with how you get new friends – sign up for student societies for instance.

– Be happy and refreshed when you go – you have to be smiling for the first two weeks, then you can relax. Do not get disappointed if anything goes wrong – things never turn out the way you've planned.

– Enjoy your time and live in the moment! It is a once in a lifetime experience.

– Don't be too concerned about school. The experience is more important than the marks.
Eirin has learned a lot by studying and working abroad. Not only has she learned about the countries she has travelled to, she has also learned a great deal about herself.
– I know the feeling of loneliness. It is a feeling you cannot escape when moving abroad by yourself. However, when I feel alone, I know it will pass. When I feel alone in Trondheim, I go skating. I did it in London to prevent feeling alone, and it worked.
When being asked about possible disadvantages with studying abroad, Eirin needs to think.
– People are afraid to miss out on things going on at home, and I used to be afraid of that too. However, I have learned that things usually are the same when you get back.
When travelling as much as Eirin has done, the biggest challenge is perhaps getting used to ordinary life again.
– I have travelled far and wide, and sometimes it makes me feel a bit displaced. I have gotten used to having a lot of excitement in life, as I have changed location every semester the last few years. When you are used to this level of excitement all the time, ordinary life may seem boring. Handling ordinary life is something I must learn, but not this year, she says smilingly.
– My philosophy is to have a purpose with my journeys. Either I travel to visit someone who lives abroad to learn about their culture, or I travel to work or to study.
Now, Eirin needs to leave to go home and pack her bags. However, she is not going to pack for Brazil just yet – before her next adventure waits a quiet weekend at her family's cabin.