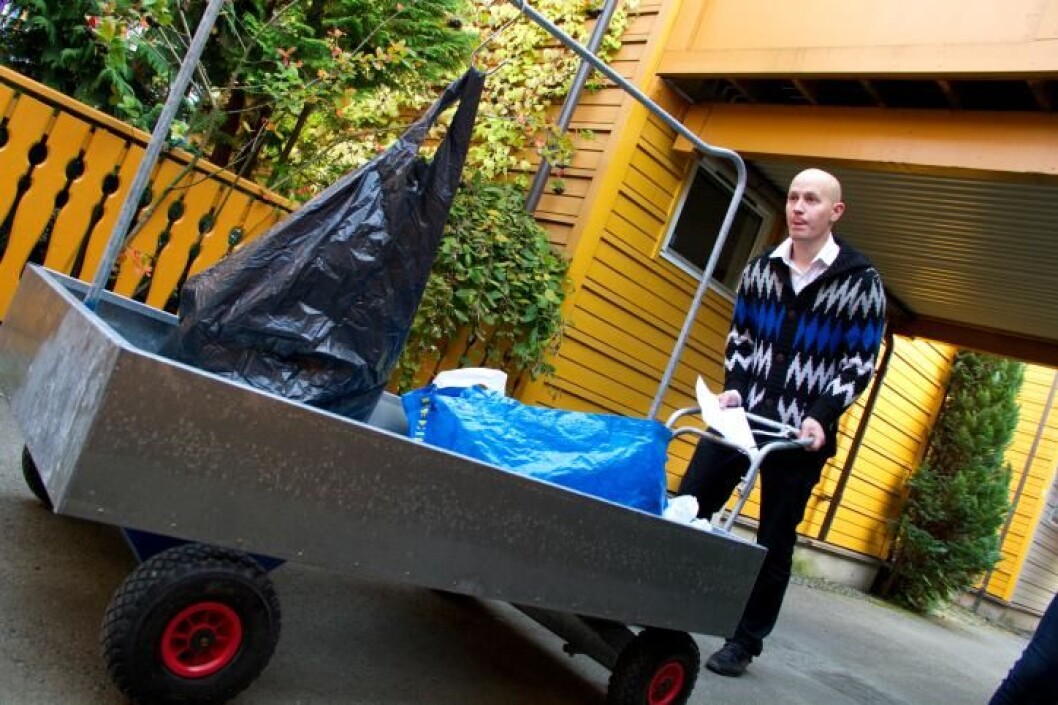 Workaholics
Some hire people to do work, others make work to employ people.
Tekst: Marie Sigstad, Frida Alexandersen
You choose life or a sure and early death.
As the talk from coffee drinkers at Dromedar on Nordre gate buzzes in the background, Silje talks about her life. She started using drugs as early as 13 and at 17 became addicted to intravenous drugs. She's been through a lot during her 26 years, among other things five rounds of detoxification and several near death experiences. Silje emphasizes that she has a safer and much more stable life now.
When she dons her uniform and goes from door to door in Lower Singsaker to collect empty bottles and  glass and metal waste, she shows clearly that she is just that.
Foto: Christina Undrum Andersen, Under DuskenALTERNATIVES FOR ADDICTS: Silje is one of two collectors working for Panterne. "A lot of programs require you to be completely clean, while Panterne offers a way out if you're still addicted."I can't sweep it under a rug. I'm trying to make something positive out of it. And when you're in a position where it's very obvious that you are a drug addict, it's more difficult to fall back. People mostly react positively when we're out on our rounds. I think a lot of negativity comes from ignorance."
She is one of two addicts who are engaged in Panterne, a newly started project which gives drug addicts a chance to work by having them recycle empty bottles.
Recycling in the Wild Jungle
"Wait a second, I need to get myself oriented," says Panterne founder, Chris Klemmetvold.
His eyes flash between his map of houses who subscribe to Panterne's services, and the colorful rows of houses in Lower Singsaker. Klemmetvold is out on a collection round to test out new equipment. This is the first time he's competing the round himself. The idea for Panterne came to him after taking a class called Social Entrepreneurship.  The goal of the class is to find solutions to social problems by using tools from the business world without increasing public costs.
A short time after that, the ball started rolling and today there are 76 households in Trondheim who subscribe to Panterne's services. The main goal is make a dignified increase in income possible for economically marginalized groups by offering a service of collecting empty bottles and other types of waste. A household subscribes to Panterne who collects their empty bottles, glass and metal waste outside of the house once a month. The employees receive a letter of reference from the organization so that they have better future employment opportunities.
"Panterne offers the possibility of a better life for drug addicts. We're still in early phases, but constantly developing. In 2012, we became a public company and we are hoping to establish an office in Oslo by 2014," says Klemmetvold.
Didn't Hesitate
Silje started working for Panterne by chance. Klemmetvold told her about the project when she was selling Sorgenfri (a magazine sold by drug addicts, which allows them to have an honest income) on the streets of Trondheim. It didn't take her long to accept the offer.
"I'm interested in helping others. There should be more alternatives for drug addicts, more possibilities. Not everyone can sell Sorgenfri. A lot of projects require that you are completely clean, while Panterne offers a solution for people who still struggle with addiction.
Full Load
On Klemmetvold's collection round there are 38 houses. Usually the collectors, Silje and Martin, make the round to collect empty bottles and glass and metal waste from the subscribing households. They share the money they receive for turning in the empty bottles between themselves, while the glass and metal waste is disposed of at one of Trondheim's waste stations. The collectors have only one round as of now, but several more will be established if there is enough interest in other areas.
"Some people don't have a lot of empty bottles, others prefer to turn it in themselves, but others still think that it's an easy solution to just let Panterne collect their waste," says Klemmetvold.
The wagon he pulls along towards Singsaker is his own creation. "I was so eager that I learned 3-D Design and made it myself!"
The customers seem satisfied. An elderly woman thinks that it's fantastic that young people are doing this kind of work, but would not consider paying for the service. Others are willing to pay to 50 crowns. This is a good sign, since the service will soon require a small fee.
Klemmetvold walks contented down the driveway of a house with four bags of empty bottles in his hands. "A full load!"
Went Bananas
"Sorgenfri! Sorgenfri!"
Salesman Ole Marius Humlen is out on a cold fall day to sell the street magazine. A busy woman politely declines.
"60 percent of customers are very pleasant, and some just walk right past. The rest look at you like you have the bubonic plague. We're working an honest job, but we're looked at as if we were Satan himself. They give you such nasty looks that you feel like you've done something wrong."
Humlen is one of 256 Sorgenfri salespeople in Trondheim. He has recently been through an 8 months detoxification prgram and sells the magazine a few hours a day as a supplementary income. Previously, he worked as a fisherman in Måløy. Humlen moved from Ålesund to Trondheim to get away from the drug scene in his home town.
"Ålesund is Norway's biggest amphetamine city," he states.
Humlen describes long weeks at sea, followed by several weeks of hard partying.
"I came back from fishing and went completely bananas."
A couple he was friends with made him realize that he had a problem and convinced him to start rehabilitation. He hopes that his recent stint at the Trondheim Clinic will be his last.
Foto: Hanna-Emilie Kværner, Under DuskenSELLER: Ole Marius Humlen has recently completed an 8 month detoxification program at the Trondheim Clinic and is one of 256 Sorgenfri salespeople."It was the first time in my life that I wanted to go through detoxification. I am lucky to have true friends who care about me, no matter what happens. That is very rare in the drug scene."
A Watch for a Life
"Stig" has been clean for five years. He wishes to remain anonymous so that he will not be recognized by anyone from his past. As the birds on his veranda fight for food from the feeder, he tells of his life as an addict. Stig talks in a calm, controlled manner, even though he speaks of particularly disturbing and personal things. It's clear that he's taken a lot of time to reflect on his life. He's happy to report that the rolled cigarette he has lighted always goes out between drags.
"Out there, your life doesn't mean shit, it has no value. People will kill you for your watch. I wouldn't wish that kind of life on the devil himself."
He believes that follow-up treatment after rehabilitation is extremely inadequate. "To be put on the street again is like being thrown right into the lion's cage. Shit, you really need a spine if you're going to manage."
Clean for his Son
For Ole Marius Humlen, the job as a Sorgenfri salesman acts as a divide between a life on drugs and normal life. "It's a great opportunity. You don't need to be a heavy drug user to sell Sorgenfri."
Humlen believes that the most important thing is mutual respect among the salespeople and the fact that he isn't offered drugs. He has a five year-old son. The mother is a drug addict and their son lives with foster parents in Molde. Humlen sees him about ten times a year.
"It's a big motivation to wake up in the morning and see a picture of him. I'm staying clean for my son."
Collects Because of His Own Initiative
Previously, Stig was also a Sorgenfri salesman. He eagerly shows us his old name tag which he digs up from a drawer. In the beginning, he was all fired up to have found an honest way to earn money. He could stop picking up empty bottles off the street.
"I shouted out about interesting articles that I recommended reading in the magazine. For me, it was about passing on an important message. The job gives you self confidence and the chance to get in contact with people would not otherwise have met."
In a way, Sorgenfri was helpful for Stig, but he couldn't get out of the drug scene. He used the money he made to buy drugs, which he saved for times of scarcity.
The "Right Now" Solution
Daily manager Erlend D. Paxal at Sorgenfri doesn't believe that there are many examples of people who get out of the drug scene through help from Sorgenfri.
"We're more of a "Right Now" solution. Most people come from a heavy drug scene. Having a job on the side improves quality of life and gives you a meaningful activity. There are much easier ways of earning money," says Paul.
Foto: Christina Undrum Andersen, Under DuskenLOTTERY: Each morning, one of these balls are chosen at random from a cake box to decide where in the city each salesperson will work that day.He thinks it can be stigmatizing to sell the magazine, considering the fact that they present themselves conspicuously as drug addicts. He talks about the magazine's goals as he proudly shows their new office on Prinsens gate:
"We want to offer people who are on the outside of the usual working life an opportunity for employment, based on the idea that people would rather work. Sorgenfri facilitates an employee's own ability to control his life and in addition allows him to make contact with the rest of society. This leads to valuable interactions and mutual respect."
It's Good to Live
Stig has big plans for the future. Even though he's still takes things one day at a time and doesn't dare plan too far into the future, his dream is to travel and hold speeches about his life as a drug addict.
He talks openly of a surreal world that stays with you the rest of your life. Stig still talks with a psychologist to work through traumatic experiences. After a dramatic hospitalization, he decided enough was enough.
"I decided to really do it, or die trying."
He believes that it is not the detoxification process itself that's the most difficult. "If you're in the period where you loathe your own body, it's still only a phase. The biggest job comes after. You've got to turn your life around to get things back on track."
After he was accepted for treatment in what's known as a medicinally assisted rehabilitation program, everything was much easier. "I thought I had gotten in to heaven. I thought, 'Shit! It's so good to live!' There was a certain moment where I really felt like I was alive. I laughed every time I fell or hurt myself. After so many years of getting high, I could finally feel pain again."
Towards a Meaningful Life
Senior advisor, Greathe Lauritzen, in the State Institute for Intoxicant Research points out that many drug addicts have fallen completely out of society in many ways. Therefore, they need a comprehensive approach from their treatment program in order to master a life without drugs.
"Former drug addicts need a meaningful daily routine with a stable place to live, hobbies, and work or school which replaces getting high. To find a social network with friends who don't use drugs is often a deciding factor. This requires long term and coordinated efforts from public social services and form volunteers," she says.
Dreaming of an A4 Life
Sorgenfri salesman, Humlen mentions that  Brygga (an outreach program which offers social arrangements, recreation and aid to former drug addicts) on Kjøpmannsgata is an important drug-free alternative in Trondheim. He goes to the club frequently and says he is happy that such places are available in the city, even though there should be more of them.
"Brygga is one of few the post-rehabilitation integration programs in Norway," says the occupational coordinator, Kristel Killie
The activities at Brygga include free-time activities, counseling regarding, among other things, residence, employment and establishing a safe network. The time period after treatment is often difficult and many different elements need to fall into place.
"Our experience is that most people who take advantage of what we have to offer manage well. With support and help, most people manage to achieve their dream of a normal, drug-free life."
A Lovesick Teenager
Silje still intoxicates herself actively, but now through a medicinally assisted rehabilitation program and not through drug abuse. She has succeeded in escaping the drug scene. She talks about how life feels when you come out of hard substance abuse.
"Life comes back to you. You learn to know yourself and have feelings you've never had before. I had my first crush and felt like a teenager at the age of 20. You experience new things, and it makes you want to stay drug-free.
Silje's boyfriend, Martin, is the second collector who employed the Panterne-project. Being a collector with her boyfriend is something she describes as fuel.
"I can often motivate myself by motivating others, for example, Martin.
Beginner's Luck
The collection round comes to an end. The last stop is Nedre Singsakerslette Studentby. The students turn out to be good customers. Klemmetvold comes back with his wagon full of not less than six bags of empty bottles.
The Bunnpris on Vollabakken is Panterne's usual place for recycling the day's load. Since Klemmetvold took the round alone, and for the first time today, he could have missed a few houses.
"Not an enormous catch today, I see," he says when he receives the money and receipt.
In a while, the plan is to get a private truck to collect the empty bottles which will be collected and then drive them to Panterne's own reception. Klemmetvold is making a great effort with the project and has decided to devote the next five years to it. He has faith that he will succeed, and that the collector's will learn a good deal out of the work.
One Step Closer
Back at Dromedar, a cheerful Silje tells eagerly of her dreams for the future. She has a clear joy for life, despite the substance abuse and the hard life she's lead. The plan is to move up in the working world or to study.
"I love to be creative, especially drawing and painting. I've had an exhibition at Dromedar, and I'm going to have one again. My big dream for the future is to start my own gallery or a store.
Foto: Eirik Helle Riise, Under DuskenDISORIENTED: Panterne-founder Chris Klemmetvold looks at a map of Lower Singsaker. He's doing the collection round for the first time, to test new equipment. The wagon is of own design.