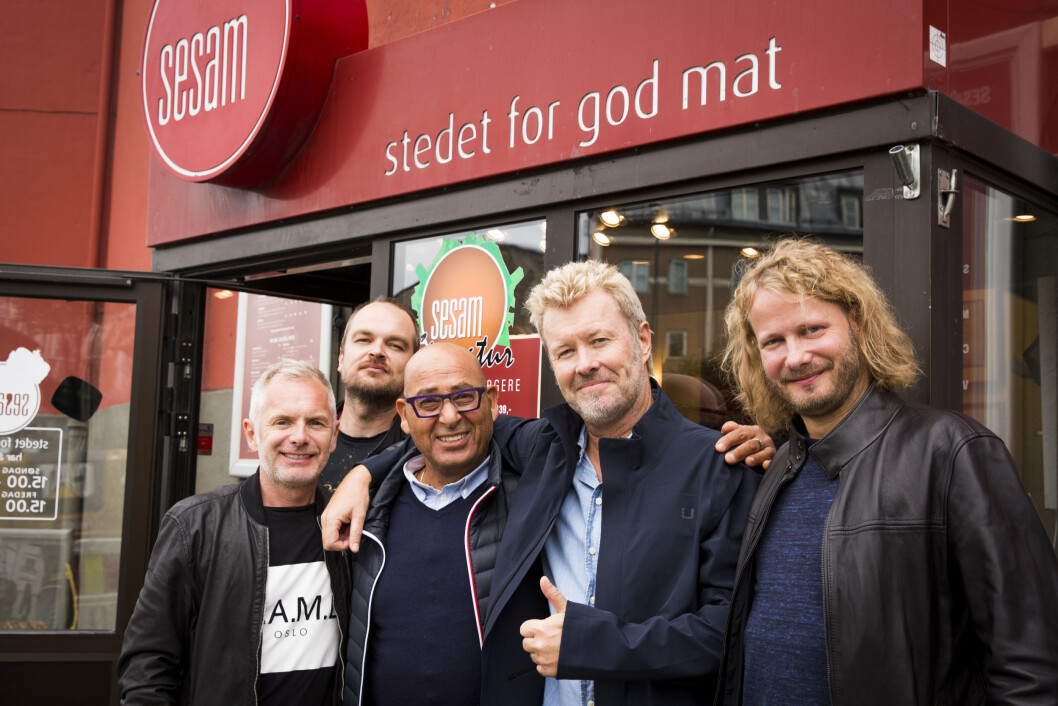 Magne of all trades
A-ha member and artist Magne Furuholmen normally visits Trondheim for one or all of the following reasons: To hold a concert, an art exhibition, or to visit his favorite burger joint.
One day has passed since A-ha's concert in Trondheim. The rest of the band, Paul Waaktaar-Savoy and Morten Harket, have already travelled to their next destination on the tour, but Magne is still in town to host an art exhibition.
– I don't have a lot of time, but we will get it done in 15-20 minutes, right, Magne asks as we are about to start the interview. He needs to get moving shortly after our meeting.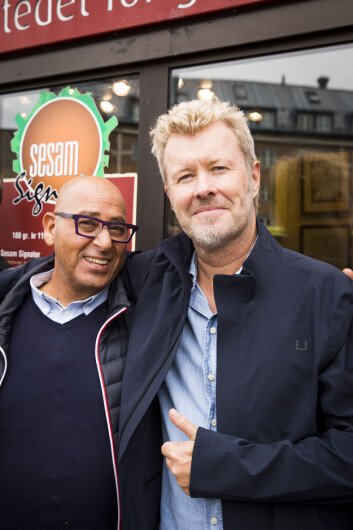 Yeah, sure, I tell him, as I scour through my long list of questions to decide which ones to prioritize.
We start talking about his links to the student culture in Trondheim. It is a well-known rumor that his favorite burger joint in town is Sesam, located at the corner of Samfundet – the Student Society in Trondheim. However, it is not mainly the burgers that have made this a place he always visits when he comes to town.
So we have heard for a long time that you are a fan of Sesam, is all I manage to say before Magne cuts me off.
– I am a fan of Ibrahim, he says.
His friendship with Ibrahim Mansour, the founder of Sesam, started out nearly 15 years ago, after Magne had held a solo concert at Samfundet. Shortly after meeting Ibrahim the first time, Magne invited him to make burgers for a release party he was hosting in Oslo. Since then, they have remained close.
– I just think he is a fantastic guy. He also has this professional pride that makes fast food taste great.
When asked how to describe their friendship, Magne puts it this way:
– We have a kind of… multicultural bromance now. It is delightful to meet his kids and his grandchildren when I get here. Whenever I am here for a gig or an exhibition, I invite them to the event.
But Magne's relation to Samfundet does not stop there. He recalls the «highly energetic experience» from A-ha's concert at UKA in 2003. And after his solo concert, Magne was given a tour at Samfundet by night.
– Partying at Samfundet was the closest I ever got to an academic degree. I moved to England right after high school, so this was a rare glimpse into a student life that I never got to experience.
«Take On Me» and other drugs
On October 19th 1985, «Take On Me» reached number one on the US Billboard Top 100 chart, as the first song by a Norwegian band to ever reach that milestone. Featuring one of the most iconic keyboard riffs in the history of pop music, the song launched A-ha's career on the international stage.
When he first wrote the riff at age 15, however, Magne himself was not immediately hooked by it.
– Back then, Paul and I thought it was too commercial. Too «poppy». At the time, we were much more into the psychedelic universe.
He credits Morten, who claimed that it was «super catchy», for picking up on the riff when he joined the band in 1982/83. The song continues to be an important part of the band to this day, having been played and covered numerous times. It has frequently featured in movies and tv shows, most recently in Deadpool 2 earlier this summer.
– That riff has paid for our houses, to put it that way. But luckily our career has gone beyond that.
And indeed it has. The band has released ten studio albums, recorded a song for James Bond, set the world record for largest live audience, and sold over 100 million records worldwide.
But while Magne and Paul were into psychedelic music, the interest for psychedelic things did not lead to a temptation to try drugs. For that they were simply too straight, according to Magne. They did try to find ways to get inspiration for new songs though.
– In our younger days, Paul and I tried to sleep over at each other's houses, with the intent to wake each other up in the middle of the night to write songs. We had heard that if you woke up during REM sleep, you would have almost LSD-like dreams. So we calculated the time it took until we reached REM sleep, and set the alarm for that.
What songs came out of that?
– Well, what happened was that we were just so goddamn tired that we turned off the alarm, looked at each other, said «oh fuck it, this doesn't work», and went back to bed.
The drug culture simply never appealed to them, he explains, before he jokingly adds:
– The three of us do have a lot of peculiarities though, so I suppose that sometimes medications could have helped.
The music industry then and now
Magne has seen the music industry change over the years. While some Norwegian musicians, such as Kygo, have made a name for themselves abroad today, it was a different time in the early 80's.
– In those days, there was often a common understanding in the Norwegian music culture that as a Norwegian it was impossible to make it on the international stage.
Partly because of this, Magne is convinced that A-ha would never have come where they are today, if they had not tried their luck abroad. But things are very different now.
– Many of the barriers from the early 80's have been wiped out in the digital age, and that is a good thing.
And yet, while it is easier to break through internationally now than a few decades ago, no other Norwegians have become quite as big as A-ha. There is no easy explanation to why they have succeeded to a much larger extent than others, according to Magne.
– We have got the best songs in the world and we have got the best singer in the world, Magne says with a smile.
And the best keyboardist?
Magne chuckles.
– Well, if you ask Chris Martin, he will say that.
Then he gets serious.
– No, it sounds a bit cocky to put it that way. But we had high ambitions, and we did not see why we should not have the same chances to succeed as anybody else.
He points out that one possible explanation is that many Norwegian musicians may lack the hunger to go all the way.
– It is a bit odd that there are not more Norwegians who appear eager to try their luck abroad. It might be because you can live fairly comfortably as a musician where they are today.
For his own part, Magne knows that success does not come by itself.
– When we left Oslo in the early 80's, we left our reasonably well-off families, and moved into some real ratholes in London, where we lived on a bare minimum for a couple of years. But we knew that we were not going to give up no matter what. And I think that is the key – you need to be willing to make sacrifices if you want to reach the top.
Our shared destiny
It is often said that A-ha has quit and come together again a thousand times. But Magne disagrees with that statement.
The band went on a seven-year long hiatus, starting in 1993, he explains. During that time, they went on doing different projects by themselves, and there was no certainty at the time that they would get back together again.
– But the only time we have said that «that is it, now we are done» was in 2010. And that happened because Morten and I were tired of it all. Then Morten changed his mind a few years later, which left me to decide between blocking a reunion, or agreeing to put the band back together. I chose the latter, and I do not regret it. Although, I am glad we had some time off.
So what is the reason that you get back together to take on new projects, time and again?
– That is the shared destiny that is A-ha. No matter how far you go in any direction, A-ha will always remain a part of you.
This shared destiny that you talk about - is that what one of your latest songs, «Objects In the Mirror» is about?
– «Objects In the Mirror» is a retrospective song, in the sense that at one point in your life you find yourself in a place where you start looking back at the life that you have lived. It is a song where I looked back at both my time with A-ha and at my own life.
Magne who?
Yet, despite his fame, not everybody seem to know who he is. Magne speaks of the first time he met Per Høyem, the director of the gallery where they are going to hold today's exhibition.
– I was in Trondheim because of an A-ha concert. I think it was right before the we retired, in the 90's. I showed him my work, and we agreed to make an exhibition. Then he called me the next day, to say «Bloody hell, I did not know who you were», Magne says and laughs.
Not being remembered for his musical successes, is not necessarily a bad thing.
– Because he did not know who I was, he was able to see the art itself, and not the popstar.
As the interview comes to an end, I look at the time, and realize that the interview lasted 33 minutes. Oh well, I hope he will not be late for the exhibition now.