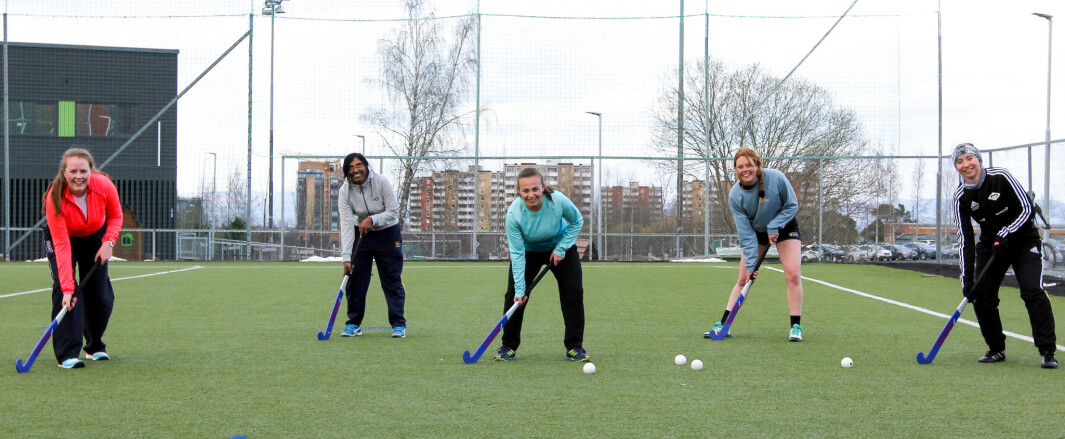 Playing Ball with Trondheim's Field Hockey Team
In the midst of a pandemic, like a dandelion through the pavement, a new field hockey team has started up in Trondheim.
After hearing rumours about a newly founded field hockey team in the city, we decided to investigate. What is this sport, and who are the players? I meet the team on a sunny afternoon at the Eberg football field.
The players have already started the warm-up and have moved on to passing exercises when I arrive. Even though I am late, they greet me warmly. Not long into the conversation I am invited to join the practice, an invitation I gladly accept.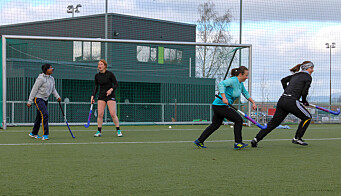 Creating a field hockey community
Chanette Øyaas got the taste of the sport when studying in Chester, England. When she moved to Trondheim to continue with her studies she wanted to keep playing. The lack of an existing team did not stop her.
— I contacted Midt-Norge Bandyregion to see if they had a team I could join. They didn't, but we agreed to start up a team to try creating a field hockey community, says Chanette.
They contacted International Relations at NTNU with the intention of giving a notice to international students and newspapers for publicity about the newly founded team.
— We're looking for anyone who wants to play field hockey, whether they've done it before or want to try a new sport. Skill level is not important, says Chanette.
She also points to the fact that this is a big sport on the international stage, even though it is yet to take off in Scandinavia.
LES OGSÅ: NTNU-student overfalt på åpen gate
International Players
Chanette has recruited four other players at the moment, all of them from other countries and with prior experience. Chiara De Siena is the most experienced player, having played for 25 years.
— There's a massive culture for field hockey in South Africa and it's very competitive. Every Saturday or Sunday there's a game so it's a very popular sport, Chiara says.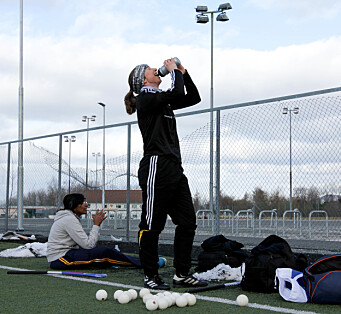 Katie McCay explains that the sport is quite popular in England as well, but mostly for children. All the girls from her school used to play, and they also met new friends through the sport.
— It's not a spectator sport though, like for example football. It's more of a communal sport, she says.
The sport's status is similar in Sri Lanka, Asanthi Mahesha explains. It is popular in schools among children, but for adults there are only a few clubs playing.
To succeed in a sport on the international stage, its standing in the country is important. This is the case in the Netherlands, where people of all ages play. Here clubs have large fan bases and professional players, according to Mila Vlottes.
— Every Sunday your home club plays a game and you go watch it with a lot of fans and a lot of beers, Mila says with a grin.
The sport is big enough for players to be able to live off field hockey while playing. This massive culture for field hockey has paid off for the Dutch national team, with several great performances at the Olympics.
LES OGSÅ: Storsalen sa ja til Reitan
Yet another game from England
Field hockey is played with a stick and a ball, and two teams of 11 players each compete on a 90m x 55m field to score the most goals. With fluidity in positions and different tactical approaches, it is similar to football.
Even though there have been depictions of sports similar to field hockey dating thousands of years back, the British are credited with the creation of the sport in the mid-1800s. They managed to get it into the Summer Olympics in 1908, but it was removed in 1924 due to the lack of international interest.
The British then exported the sport to their colonies and managed to get it back into the Olympics in 1928. They had exported it too well, however, and a 40 year dominance from India and Pakistan followed. England's only gold medal since 1920 was in 1988.
Since then, many other countries have adopted the sport, with Australia, Germany and Argentina as gold medal winners in the later years.
LES OGSÅ: Hvorfor lykkes vi med å få kvinner inn på mannsdominerte studier – men ikke omvendt?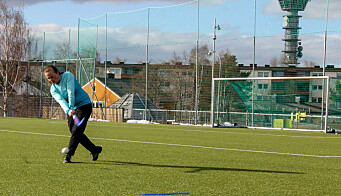 Great teachers make it easy
As Norway lacks traditions in sports played with sticks, I have no real experience. I understand quickly that my greatest challenge is eye-stick coordination. At the beginning, hitting the ball when moving is hard and makes my movement clumsy.
Luckily the other players are eager to teach. I learn how to move the ball with the stick, as well as techniques for striking and how to lob. After about an hour of practice and encouraging words from my new teammates, I have learned a lot. Even though it will take some time to master, the support from the team makes it easier. Field hockey is definitely a sport anyone can enjoy.
— We're hoping to get more players and we will welcome anyone. It doesn't matter if you're a male or female, have played before or not. Anyone is welcome here, says Chanette.
She encourages anyone interested to join the Facebook group "Landhockey/fieldhockey in Trondheim". The team has open practices on Eberg kunstgress Wednesdays at 16.30.
— Hopefully we can create a field hockey community here in Trondheim.
LES OGSÅ: Hver andre student sliter psykisk