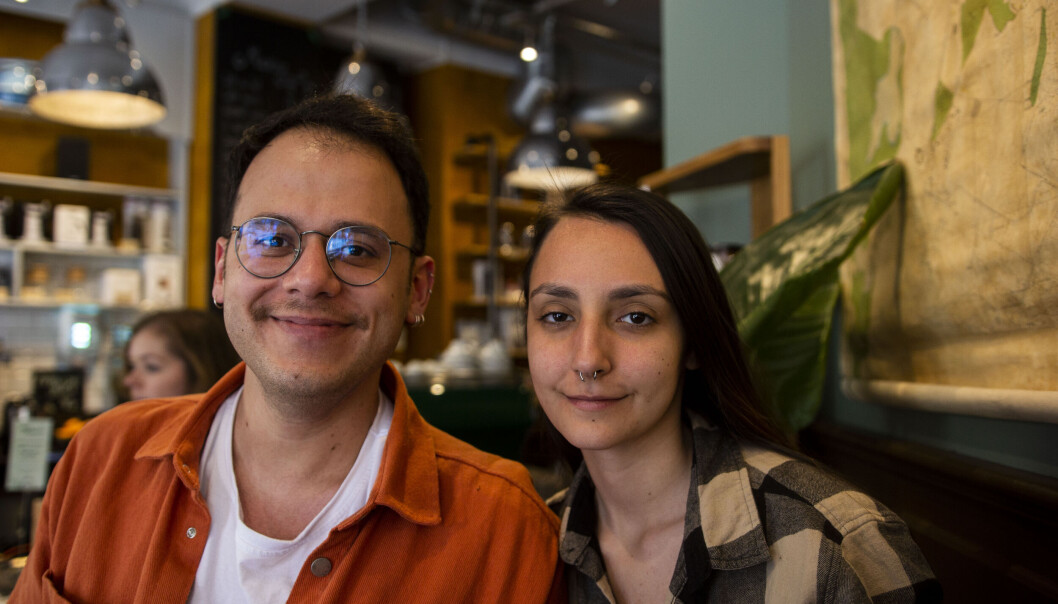 – Don't be complacent in your own country just because others have it worse
The 2021 Student Peace Prize winners encourage Norwegians to bring LGBTI+ rights centre stage ahead of next year's local elections.
Under Dusken was given the opportunity to interview Melike Balkan and Özgür Gür, last year's winners of the Student Peace Prize, during their recent visit to Trondheim. I met with them mid shopping trip; their luggage having fallen an unfortunate victim to airport strikes in the Netherlands.
After introductions I asked how the trip had been so far. Gür and Balkan smiles and explains that outside of the luggage issues, it's been pretty good.
– We were supposed to do a peace tour when we won the prize in 2021, but because of covid that wasn't possible. But now, we were already visiting the Netherlands for a different award and decided to take the opportunity to do a sort of mini tour here at the same time, Balkan says.
They arrived the night before, just in time to appear at an auction held by Samfundet to raise funds for METU LGBTI+ Solidarity, which is the student organization through which they won the Student Peace prize.
– I was really fascinated by the ceremony and the traditions surrounding Samfundet. We were welcomed in a really great way! The funds raised will be very helpful for the activism back in Turkey, Gür remarks.
After another day of meetings in Trondheim, they are travelling to Oslo to raise further awareness around LGBTI+ issues in Turkey.
– We're going to meet with different non-govenmental organizations (NGOs), Amnesty International and the minister of Culture and Equality, Anette Trettebergstuen. So, there's a lot of meetings trying to draw attention to Turkey and what is happening there, Balkan explains.
On trial during a pandemic
After organizing a pride march in 2019, Balkan, Gür and 17 other activists were charged with breaking Ankara's laws against organizing or participating in LGBTI+ events.
They recollect the covid lockdown with the added pressure of a looming court cast.
– It wasn't easy. Because of the lockdown we couldn't organize any public events or marches to raise awareness towards the case. During our hearings we were only allowed to bring a very limited number of people, while the authorities brought far more. For our final hearing we were able to petition for a larger courtroom, so we could gather quite a lot of our supporters at last, Balkan says.
–We also founded our NGO (ÜniKuir, ed.) in February of 2020, then everything just shut down. So that was also very difficult, Balkan adds.
Gür explains that another element that added to their difficulties was the government's growing hostility towards the LGBTI+ community and scapegoating amidst the pandemic.
– At the beginning of the pandemic, the head of religious affairs said that gay people brought and spread the disease, using our community as a scapegoat. Suddenly the whole country started talking about the LGBTI+ community, but not in a good way. Being locked inside, there was very little we could do about it.
I ask if there was anything that helped them get through that challenging period.
– I think it was the sense of solidarity we felt and the amazing queer community of Turkey. Every single time we felt alone, we had online meetings and therapy groups, which really helped, Balkan says.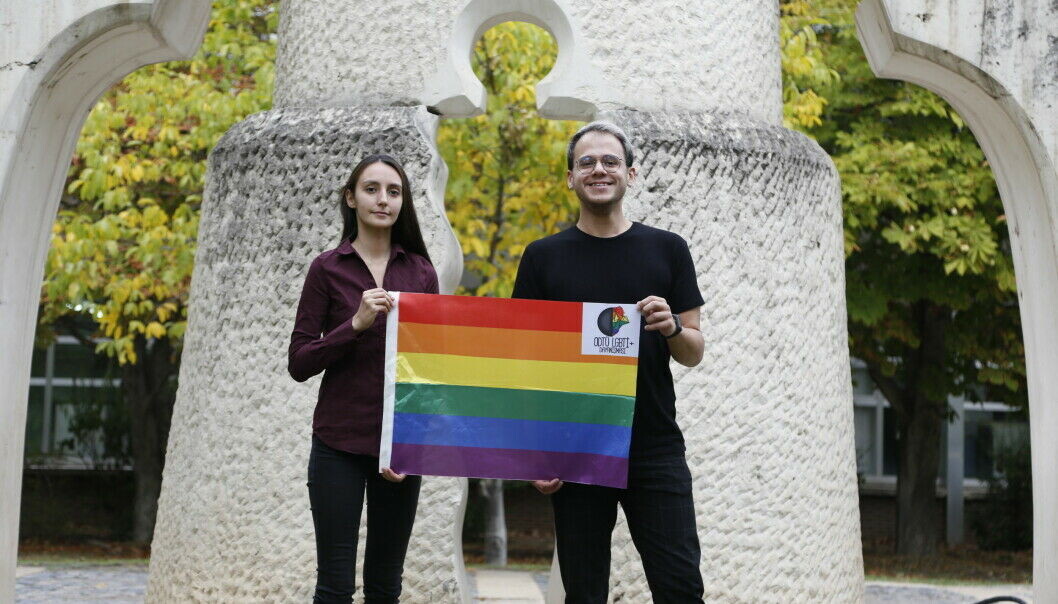 Working after their acquittal
In October 2021 the court case ultimately ended in their acquittal. Since then they've been working a lot, running awareness campaigns across Turkey.
– We're focusing on universities and student activism. There have been a lot of attacks on university clubs and organizations. There are clubs that have been shut down because of government pressure against the rectorships. We're trying to do all we can to help these groups, Balkan explains.
Despite these difficulties, Balkan goes on to say that their project is making a difference.
– At the beginning of the pandemic there were about 16 LGBTI+ student groups around Turkey. But with the help of our NGO, right now there are 36 and the number is growing. We're focusing more on the rural cities, where other LGBTI+ NGOs haven't reached out before. It's really amazing to see groups popping up in these small, conservative cities.
On that note I asked how things have changed for the LGBTI+ community in Turkey since they organized the METU Pride Parade back in 2019.
– Things were getting better in 2019 as the bans on LGBTI+ events were lifted by the courts. Unfortunately this didn't change in practice as bans were still enforced and events attacked by the police, Balkan answers.
At their acquittal the judge stated that organizing a pride march does not constitute a crime, but just three hours later the prosecutor's office carried the issue to a higher court.
– The high court's appeal means the case can't yet be used as a precedent to stop police interference. We don't expect it to be overturned, but as the decision is not yet legalized, we have to keep pressuring the system, Gür explains.
Balkan also reiterates the issues caused by the government's attacks on the LGBTI+ community.
– Because of the scapegoating around covid, things have gotten progressively worse. Politicians are publicly advocating for violence and persecution of the LGBTI+ community. On the other hand, the community is a lot larger. So community-wise we're better, but legally we're worse off.
LGBTI+ rights at stake across Europe
Due to the war in Ukraine, millions of refugees have fled to neighbouring countries. A large number of LGBTI+ people are also fleeing Russia due to Putin's crackdown on the community there. Balkan and Gür talks about the issues they face in trying to help these people
– There are other things that countries have to consider if they're situating, say a trans refugee. This has usually been overlooked both in Turkey, where the government simply doesn't care, but also in Europe at large where the politics around LGBTI+ refugees are not talked about. Most countries take no measures to protect them, Balkan explains.
Gür also points out that the government not working with them isn't helping the situation.
– We have a huge problem reaching out to LGBTI+ refugees because the ministry refuses to work with us. Between that and the language barrier, we're struggling to help them in a good way.
At the end of our interview, Balkan used the opportunity to address LGBTI+ issues in Norway in light of their recent conversations with youth groups in Trondheim.
– I think the thing to keep in mind is there's always a potential for change. In Norway there are so many LGBTI+ issues that are not talked about. Especially with local elections coming up next year, this is an important moment. Intersex and trans rights should take center stage. Gender neutral bathrooms, dorms and proper pronouns should be an issue for everyone.
She also points out that people can endeavour to be considerate and helpful towards LGBTI+ people in their daily lives, creating safer spaces for them.
– But at the end of the day you have to advocate for policies. With a liberal government, now is the time to push them on these issues. You shouldn't be complacent in your own country just because it's worse elsewhere. You have to keep pushing.
Gür adds that further work towards international cooperation is helpful for everyone.
– Creating platforms to increase connections and solidarity helps immensely. Things such as the Student Peace Prize can connect places like Norway and Turkey and make us both stronger for it.